Description
UMT eMMC ISP Tool Activation is intended for UMT users.
It allows you to:
work with ISP eMMC pinouts
enable HiSilicon Service Tool (UltimateHST)
Note! Provide us with your UMT Box / Dongle serial number while placing an order.
You need to have a valid UMT (Box/Dongle) 1 Year Activation to be able to add UMT eMMC ISP Tool Activation
Where to find the serial number?
Users without proper hardware can buy eMMC ISP Tool Adapter for UMT/GSM Shield
This is a permanent activation.
HiSilicon Service Tool – Features:
COM1.0 Flasher
Supported Chipsets:
Kirin 655
Kirin 658
Kirin 659
Kirin 950
Kirin 955
Kirin 960
Kirin 970
Fastboot Info
Read basic info in Fastboot Mode
Flash Board Software
Flash standard board firmware XML using this function
Check/uncheck required partitions
Choose configuration from XML, Fastboot or Partial Erase
Option to protect critical data from write / erase
Flash UPDATE.APP
Flash APP firmware (via Test Point or in Upgrade Mode)
Customizable flashing (not applicable in Upgrade Mode flashing)
Flash multiple files one by one at the moment
Upgrade Mode Flashing
Enable Downgrade/Protect Critical Data/Custom Flashing not applicable in Upgrade Mode
Enable Downgrade
You can use while flashing via Test Point.
This option is checked by default.
Protect Critical Data
Protect critical data from erase/write
Applicable in COM1.0 / Fastboot Mode only
Backup / Restore OEMINFO
Backup / Restore OEMINFO data from COM1.0/Fastboot mode
Backup / Restore Security
Backup / Restore Security data from COM1.0/Fastboot mode
Reset FRP
Need to connect the phone in COM1.0/Fastboot mode
It will not work if you enter Fastboot mode manually
FwTP (Firmware Test Point)
This function will let you enter COM1.0 without disassembling the phone
You need the same firmware version for your device
Strictly to be used only on the supported platform
To enable FwTP, connect the phone in Upgrade Mode
To exit COM1.0 Mode, disable FwTP
Where to find the serial number?
You can find your serial number using the UMT Card Manager software.
Download the latest version of UMT Card Manager software
Run this software to read the serial number of your box/dongle.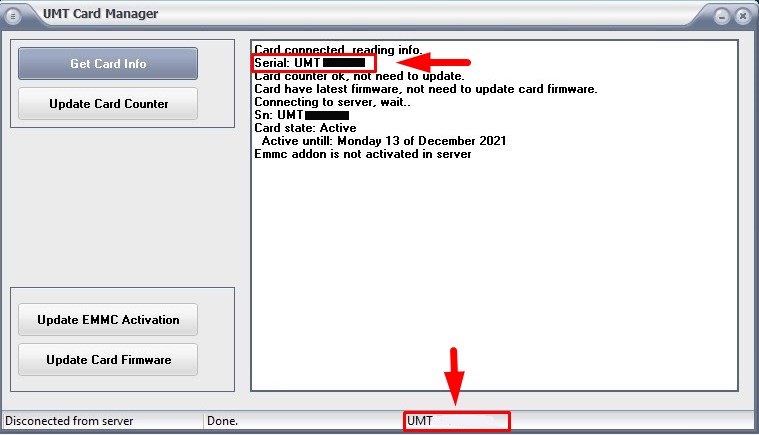 Detailed information on the further use of the digital product will be sent to your email, specified during registration, when we confirm your payment and process your order.